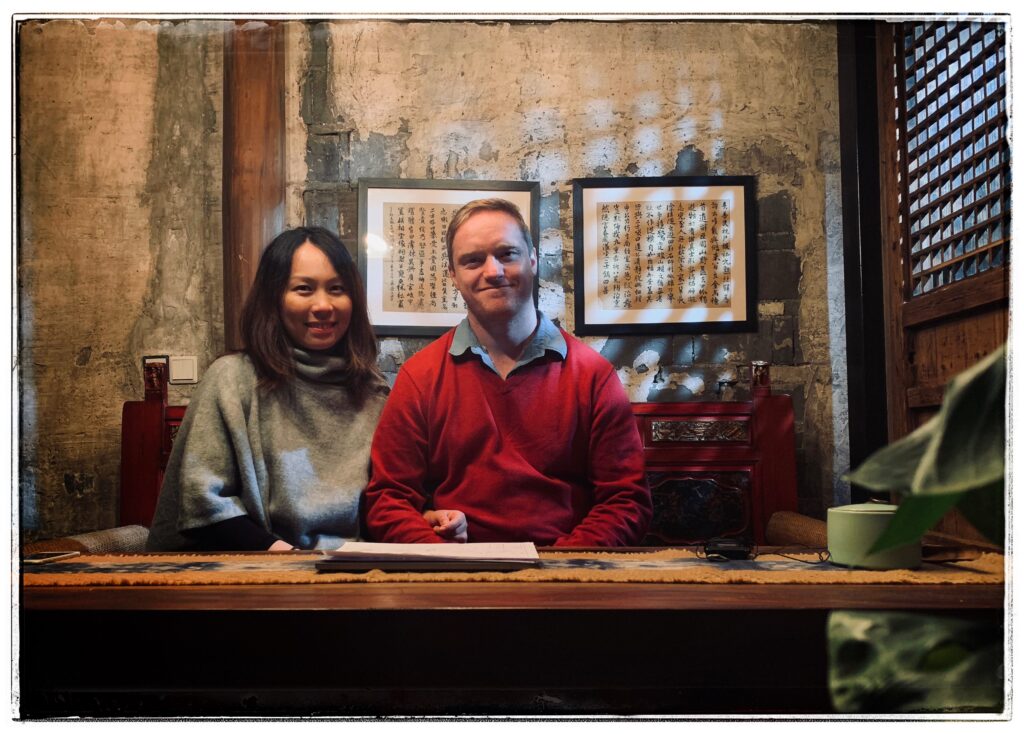 The Wuyuan Skywells is a fancy family inn, the home and folly vanity project passion project of Edward Gawne, Selina Liao and their children Victoria & Peter. It is our antidote to the mile-high skyscrapers, always-online, ruthless overtime culture and relentless pace of life in modern China.
Working hard jobs in marketing in Shanghai for a few years can take its toll, and many of us dream for more than we find in the depths of Microsoft Office and monthly financial reporting. Everyone has at some had a vision of buying an old wreck in the countryside and turning it into an inn – we've been living the dream since 2015!
Selina, a Jiangxi native, has always been a passionate entrepreneur, a bird trapped in the cage of the corporate world. As a young university student in England, she imported make up for sale in the West and later sold bedding to students back in China, but somehow ended up pushing numbers round-and-round in circles for big companies in Shanghai. Sensing the winds of change in China, and opportunities in domestic tourism, Selina was intrigued by the old houses and untapped village tourism in her home province of Jiangxi. With Ed in tow, she set off to see what opportunities awaited.
Ed is a romantic soul. He spent his childhood bashing bits of wood with hammers in the shed, and later building guitars. The smell of wood, morning dew, green fields and birdsong were corner stones of his upbringing in Southern England, but became scant memories after moving to Shanghai. Like all children, he never dreamed of a career in corporate market research, but somehow fell into one. Having made himself a promise that he would be doing something he cared about by the time he was 30, with 3 months to go he downed tools and quit. A year spent in Selina's hometown, Nanchang, was a great chance to study Chinese, get to know her family and where she grew up. More than that though, it was chance to take road trips into the countryside, where old houses, farms and forests are in no short supply.
Thus it was, we first came to Wuyuan.
UPDATE
We first came to Wuyuan in 2015 and since then – we've had some additions to welcome to the team – our daughter Victoria & son Peter who speak a mix of mandarin, English and local Wuyuan dialect. Victoria is broadly helpful in welcoming guests and being charming. She goes to the local kindergarten She may try and strong arm you into sharing your desert with her, we ask you to be strong. Peter is sweet and bumbling, as infants often are.
We are personally at Skywells about 80% of the time – if we aren't on holiday or a trip to the big smoke. We have another property down the road aiming at the Chinese market – Victoria House – which you can read about here. Skywells is Ed's baby and he can normally be found in the garden moving things round in circles or taking refreshment with guests in the bar.