Wuyuan Skywells is proud to present the local lady's lunch club. Eat lunch in a local family home as a one off or part of a package. Details below.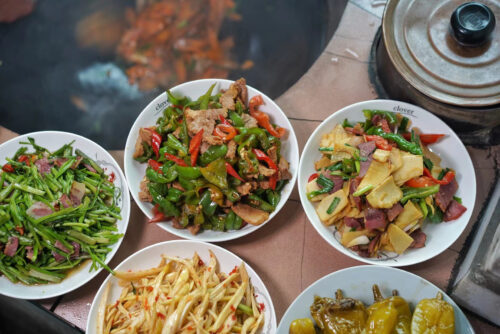 Living in the Jiangxi countryside for now 8 years, we've gotten to know a lot of people who are handy at food: the carpenter who shares baijiu and chilli peppers on a cold morning, a baker making mandarin & sesame cakes in a wood fired oven and a celebrity chef bringing Huizhou food to the masses we met at a TV gala show we were dragged into.
Ed's favourite remains the lunches we've been invited to in houses of neighbours, friends and business contacts. Most villages don't have a restaurant: many times we've gone into a dilapidated old wooden house and been presented with a feast, often by a humble smiling grandma who apologises for the lack of food, whilst placing the 14th plate on a teetering pile in the middle of the table. This experience is something we'd like to share with our guests (although we'll try and control the number of dishes)
WHERE AM I GOING?
Option 1 NEXT DOOR – pop next door to one of Ayis houses, where a combination of her and her lovely mother will make lunch in their home. Good if you're right for time.
Option 2 RICE WINE VILLAGE – jump in the car and take a 40 minute drive to Kengtou – previously called 'the 18 mile peach blossom stream' (names were better before the cultural revolution). A real gem of a tumble down village, far from the tourist track. Optional extra – get a cab halfway there and then hike 5km to Kengtou through a wild path in the hills.
WHAT AM I EATING
Local mountain food – stir fries of local veggies, wild greens and steamed pork. It's very much 'you get what comes out of the kitchen' – we've told them to hold fire on spice and oil as much as possible.
Not suitable for strict vegetarians. (Pork lard is a fundamental part of process for cooking greens).
HOW DOES IT WORK?
– OPTION 1: book our 'village foodie package' when you book your room for 700 RMB for two people.
Includes:
one dinner at Skywells (for two)
one Local Lady's Lunch at rice wine village (for two)
taxi to rice wine village
one Local Lady's Lunch next door (for two)
pair of local beers
Doesn't include station pickup, village entry fee, room fee, further alcohol,
OPTION 2: book a one off lunch at either Lady's house for lunch for 100 RMB/ person:
choose from rice wine village (40 min drive) or our neighbour (40 second walk)
Please give at least 24 hours notice – consider letting us know before your arrival. Food needs to be bought and picked by the ladies in advance!
Rice wine village needs a car to get to – we can help organise a taxi (not included in 100/ person price)
fee gets added to your bill at checkout
questions? Shoot!